You won't notice the difference between fresh and stale tea if you're not a tea enthusiast. Properly storing tea allows it to retain its flavor and aroma for longer, giving you more for your money with each cup.
One great way to keep tea fresh is by storing it in containers. We'll be discussing the advantages of tea tins, but there are many other ways to store loose tea. Tea tins have many benefits, including their extended shelf life, convenient storage, and environmentally friendly design.
Tins are ideal for storing tea because they keep it compact and easy to access. The tea within these tins is safe from the effects of heat and moisture. When you use a tea tin, you'll notice a considerable difference in the taste and body of the tea.
Several tea companies sell their product in handy tins. It's much better than buying loose tea because you enjoy the warm drink's freshness. If you want to protect your tea from the effects of heat and moisture, purchase a tea tin can today!
If you're looking for the perfect tea tin, you may need help picking the right one due to the abundance of options on the market. However, you don't have to worry! We've compiled a handy list of the top 18 tea tins you can buy.
Continue reading to learn more about the freshest tea you can get this year.
Top 18 Tea Tins at A Glance
#1 New English Teas Vintage Victorian Round Tea Caddy
When it comes to fresh tea, nothing gets better than the Vintage Victorian Tea Tin. Each tea tin contains 240 teabags of their Signature English Breakfast flavored tea. This tea bag is great for milk drinks since it is full-bodied and robust enough to give you that extra boost in the morning.
The forget-me-not florals inspired this tea. These were a symbol of love and remembrance during the Victorian Era. The popularity of tea also spread vastly during the Victorian Era; hence, the company honored it by creating this tea collection.
#2 Taylors of Harrogate Earl Grey Loose Leaf
Taylors of Harrogate Earl is a UK-based tea company that has operated since 1886. That means it is almost 137 years old! The company is known for providing top-quality tea that doesn't compromise on ethics or its environmental causes.
Their tea tins are available in 7 different packaging sizes with multiple bundle offers. Furthermore, the tea company offers 12 different flavors, ensuring you find one that matches your preferred flavor profile. Some of their best sellers include Earl Grey and Spiced Christmas.
#3 Twinings Earl Grey Loose Tea Tins
The Twinnings Tea Company is one of the oldest tea-making firms on the market. It's no surprise that with a 300-year history, they consistently rank high on many tea rankings. Their loose tea tins are a top seller and a favorite among many tea enthusiasts.
The loose tea tins feature an aromatic blend of black tea with citrusy notes. The light tea is perfect for breakfast and is appreciated by many casual tea drinkers. The tea has floral, citrus, and fragrant notes that help you feel good, one sip at a time!
#4 T2 French Earl Grey Black Tea, Limited Edition Tin
T2 has a unique approach to reimagining the tea leaf. Their website claims they spread the joy of tea by sharing interactive experiences and stories. These claims can be seen in their product's quality, as it is one of the best-tasting teas!
Their French Earl Grey Black Tea was a hit with us for all the right reasons. It features a fruity French spin on the traditional Earl Grey. The tea features a refreshing, robust, refined blend with a medium body. The tea gives off notes representing flowers and fruity flavors that interplay with traditional bergamot.
#5 Oliver Pluff & Co. Earl Grey Tea
If you're looking for a more traditional-tasting tea, the Oliver Pluff & Co. Earl Grey Tea is perfect for you. This tea tin is a classic take on black tea, with a unique flavor that is distinct in its aroma. The aroma is specially extracted from the rind of the bergamot orange.
Many people who drink this tea compliment it for its nostalgia factor. Many tea companies try infusing their teas artificially; however, this classic take on Earl Grey is perfect. You can purchase 2.75- or 4-ounce tins online and enjoy this tea.
#6 Makaibari Tea Treasures Organic Roasted Darjeeling Loose Leaf
Enjoy a cup of Makaibari, one of the world's most lauded tea plantations, and its award-winning Darjeeling Tea. This tea tin is one of the best you can buy this year. Makaibari Tea Treasures has a unique way of roasting its tea, making it stand out.
It roasts black tea leaves over a moderate flame to impart a distinct but nuanced smokey flavor to its Darjeeling Tea. The subtle notes give the tea drinker a complete, full-bodied tea experience.
#7 Moksa-Expect Miracles- Lychee Flavored
These loose black tea leaves are of the highest quality and are entirely organic and pure. With good tea, you can look forward to a cup of caffeine bursting with flavor and aroma. Flavors and aromas from nature have been added to these loose leaves.
This herbal extract of lychee, mixed with the flavor and aroma of black tea, can help you relax, rejuvenate, and sustain your healthy way of life. The extract is ethically sourced from the farmers, who vouch for its calming effects.
#8 New English Teas Vintage Victorian Tea Tin (Powder Blue)
Don't worry if caffeine isn't for you. You can still enjoy delicious tea by buying New English Teas' vintage decaffeinated English Breakfast teabags. This tea is perfect if you're trying to cut down on caffeine. You can still enjoy your favorite drink without having to worry about the caffeine content.
This tea features the same flavor notes as its caffeinated version, so you won't notice much difference in it. Since it comes in a tea tin, you can be assured that it will stay fresh for a very long time.
#9 New English Teas Vintage Victorian Tea Tin Fine 1869 Blend English (Pink)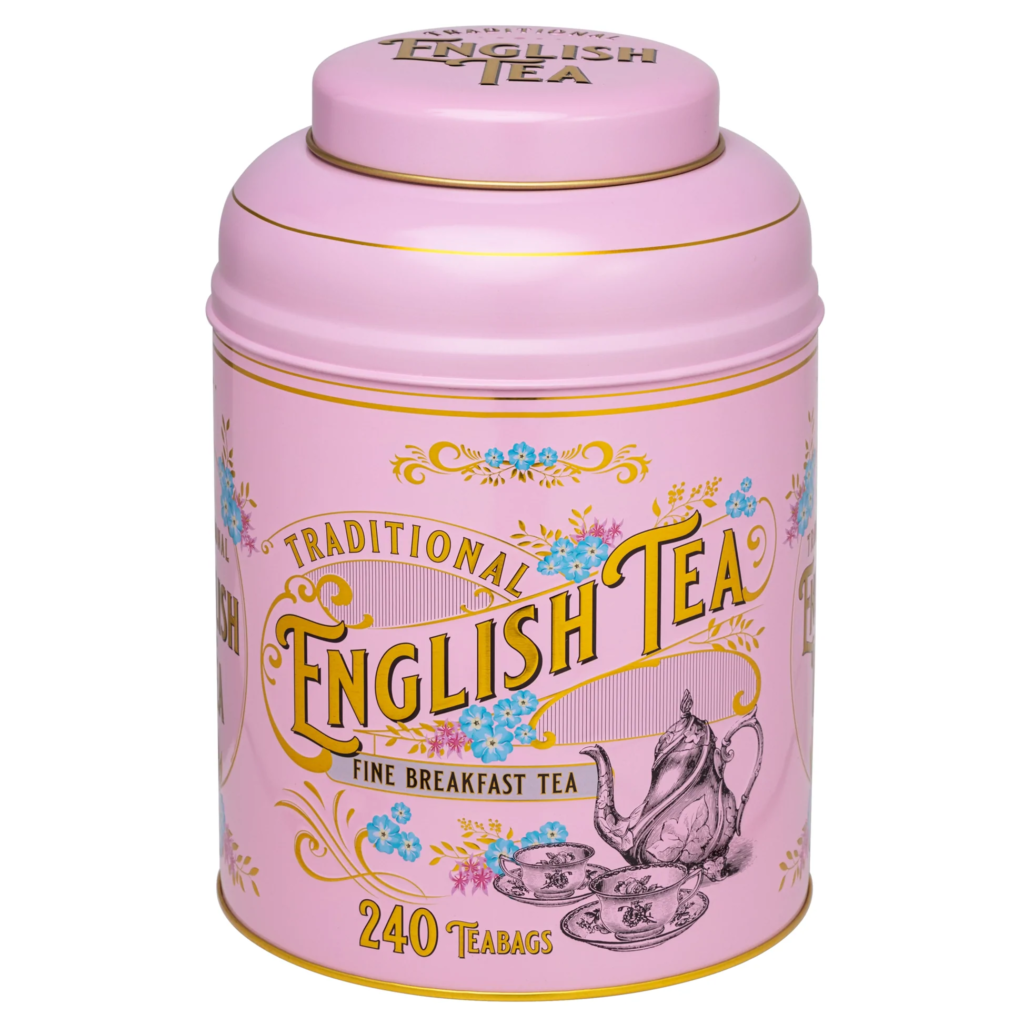 This is another one of New England Tea's premium tea flavors. The 1869 blend is a top-quality Sri Lankan tea. This product has been carefully refined to help you recover after a long day. It packs the perfect caffeine punch with a refreshing flavor to get you going.
Packed in its signature pink tin, this product is hard to overlook. It features a rose-pink finish with gold trimming, which looks incredible. Furthermore, the containers are stackable, helping you store them easily.
#10 Richard Royal Tea The Royal Cats, Ceylon Black tea, Rich Aroma, and Intense flavor
This tea is an excellent option with a robust scent, amber infusion color, and robust flavor. The leaf tea in the Royal Cats Family collector's tin comes from the most excellent Ceylon farms. The tea features a rich aroma and a strong flavor, providing the kick you need to get through your day.
The tea comes in pyramid-shaped tea bags and is perfect if you want to gift them to someone. Preparing the tea is incredibly simple, too. Just dip the teabag in warm water until you smell a strong aroma, and the tea is ready to be enjoyed.
#11 Harney & Sons Chamomile Herbal Tea, Classic Tin
The Haney & Sons Herbal Tea is different from regular teas. It uses an Egyptian chamomile plant to produce a solid and flavorful herbal tea. When it was first established, Harney & Sons' primary goal was to provide clients with the highest quality tea on the market.
For 30 years, the firm has been guided by this pledge. Three generations of Harneys have continued John's legacy of high-quality tea and the company's dedication to sourcing only the best ingredients by maintaining family ownership and management of Harney & Sons Tea.
#12 Alice In Wonderland Tea Tin
This product is perfect for you if you want to purchase a unique collection of New English teas. With this product, you get the best of two worlds. You enjoy the company's finest English tea in a tin container that is perfect for displaying on your counter.
The container features a special tribute to Alice in Wonderland and is excellent for gifting over the holiday season. Preparing the tea is simple; infuse the teabag for 3 minutes in hot water and enjoy!
#13 Iconic London Sights 6 Special Tea Tins with Fine English Loose Leaf Tea
This is another one of the New English Teas products; however, it is different from regulars! This collection of six miniature tea tins contains four ounces of great English loose tea and has images of well-known landmarks in London.
Britain is rich in tradition and culture, including many well-known landmarks and figures from its past. These are brought to life in New English Teas, which pair them with traditional English tea. The packaging is excellent for gifting, too.
#14 Harney & Sons Wedding Tea, A Tea for Marriage
We've found the right product for you if you want a gift during the wedding season. The Harney & Sons Wedding Tea combines vanilla, lemon, and white tea to make a delicious warm drink.
It's made with mutant white tea flavored with lemon vanilla and a dash of fresh pink rose petals and buds. The tea is made using the finest tea leaves, and pairing it with a handy tin will ensure the product stays fresh for a long time.
#15 Harney & Sons Tower of London -Black Currant, Vanilla, Caramel, and Honey
The Tower of London mix by Harney & Sons is sweet and delicious, like particular Elizabethan preserves. This Chinese black tea blend is infused with bergamot oil and honey taste and also features chunks of dried stone fruit.
It comes in an eye-catching tea tin container so that you may give it as a present to friends and family. Harney & Sons promise only the finest quality tea, which means you can be assured that you'll enjoy this tea.
#16 The Republic of Tea – Organic Elderberry Herbal Tea
If you're a fan of herbal tea, you're likely to like this product. The Republic of Tea Elderberry Herbal Tea is perfect for calming you after a long day. Elderberry tea is calming because of the antioxidants it contains. For an immune system boost, try this sugar-free hot drink.
This tasty product is an organic rooibos tea blended with elderberry and hibiscus. To prepare the tea, infuse the teabag in boiling water for 5 minutes and enjoy the caffeine-free drink!
#17 The Republic of Tea, Kiwi Pear Tea
If you liked the previous herbal tea by the Republic of Tea Organic, you might like this one too! The juicy pears and tropical kiwi fruit flavors in this China green tea make it a delectable treat. Spicy, flavorful, and refreshing, you can enjoy this tea both ways; hot or iced.
The Republic of Tea has over 350 incredible teas, so you can trust their products' quality. All their teas are caffeine- and gluten-free, so picking their products would be wise.
#18 Queen Elizabeth II Tea Tin
The final product on our list is, unsurprisingly, from New England Teas and is from their Queen Collection. At the age of 25, Queen Elizabeth II succeeded her father, King George VI, as monarch of Great Britain on February 6, 1952.
She was Britain's longest-ruling monarch, leaving behind an unparalleled legacy. The New English Tea Company introduced this collection to commemorate her life.
Final Thoughts
Tea always tastes better when it's fresh, so you'll need to purchase your caffeine fix from tea tin manufacturers. Don't get confused by the number of options on the market. Choose from our top 18 most popular tea tins and enjoy your favorite hot beverage as you've never done before.